Eine spezielle Web-Site für Konvertierer und andere Beispiele ist:
Unter anderem ist dort das Projekt Text2HTML zu finden, mit dem normale Text-Dateien in HTML-Seiten transformiert werden können. Die Seiten von text-konverter.homepage wurden mittels dieses Projekts erstellt.
Eine Menge von Beispielen sind bereits im Installations-Paket des TextTransformers enthalten:
Exchange of words
Conversion of an Atari-text
Calculator
Text statistics
GrepUrls
E-mail address
Guard
Bill
XML
Java
TETRA-Produktionen
TETRA-EditProds
TETRA-Interpreter
TETRA-Import
Cocor Import

english
Letzte Neuigkeiten
31.01.23
Delphi2Cpp 2.2: Erleichterte Übersetzung unvollständigen Codes [more...]


07.02.22
Delphi2Cpp 2.1: Delphi 10.3 inline Variablen [more...]


"...
Fantastic!!!!
... You have exceeded my expectations and I love your product. We will get a lot of use out of it in the future for other projects."
Charles Finley

xformix 23-02-07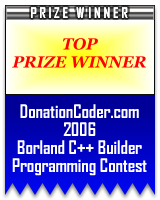 I was extremely impressed with your components and tools. Not only extremely powerful but very professionally done and well documented, etc. Really quality work, congratulations
mouser (First Author, Administrator)
Diese Homepage ist aus einfachen Texten mit [Minimal Website ]generiert.



Minimal Website ist mit Hilfe des TextTransformers hergestellt.



Der TextTransformer ist gemacht mit dem Borland CBuilder